The call went out to sort out a few rotten weatherboards at Mick's place, Palmerston North…
What a great excuse for a roadie.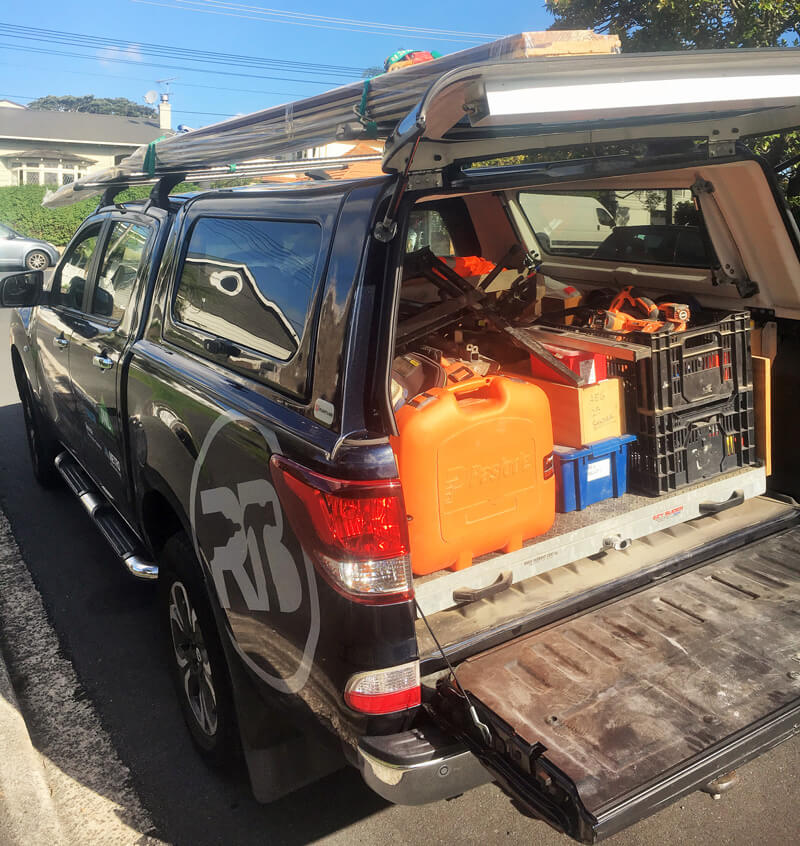 I can't remember the last time I drove that far south, all that comes to mind is a younger version of myself on my old motorbike.
The round trip which was completed in 39 hours, saw me tick over 1105 km.
On route, I visited the Army Museum after driving the Desert Rd which I haven't visited for over 20 years!
Finally arriving in Palmerston North, I replace 30 metres of rotten weatherboard around the back of Mick's house, listen to some great stories told by Mick and his son.
Before the journey started I loaded up all the tools I needed for the job. Although it was a fairly small job you wouldn't believe the amount of tools I needed.
The BT50 was laden down with 200 kg of gear.  Strap the weatherboards to the roof racks, throw in an overnight bag, choose a Podcast, set the navigation and head south.
Its 541 km from my place to Mick's and the 7 hour drive down gave me plenty of thinking time. My Mazda BT-50 could be the ideal vehicle for the classic NZ "roadie", Open road touring is comfortable and quiet and the BT-50 has a nice balance between being nimble and stable.
NZ roads are not always the smoothest 4 lane highways like the ones I have driven on overseas but I found the BT-50 can handle the twists and turns, the bumps and loose gravel, with ease.
Although I used my BT-50 for work during my trip down to Palmerston North I also travelled on a roadie which had my BT-50 carrying 4 adults, one child with plenty of room, no aching backs and happy smiles on arrival.
The BT-50 proves itself as a passenger vehicle with plenty of capacity for kayaks on the roof rack, bikes on a carrier at the back leaving you with room to fill it with whatever else you need for your roadie.
In the past, I have had a work vehicle and a weekend car, not anymore, now I have the Mazda BT-50.
It's a Ute, and I do utilise it.  Everyday!